Home
»
Sugar Land TX best mosquito misting system
If mosquitos are an issue, like they are for most of us, then Sugar Land TX best mosquito misting system is right for you.
Our services are highly requested. We've been able to perfect our system so that it provides the best benefits possible. From large companies, residential areas, we service them all.
Nobody likes to come over for a barbeque just to leave chewed up from mosquitos. We all seem to have a mosquito problem.
That said, if you are ready to ensure you and your guests leave itch-free, keep reading to find out more about our company and how we can serve you best.
Servicing You
Sugar Land TX best mosquito misting system is the best in the business.
Without affecting the aesthetics of your home or business, we install mosquito misters that kill mosquitos without a second thought.
Although ridding your home or business of mosquitos is our main priority, we also want to make sure you understand how we do it. Every person and family is different. What one company needs, you might find you don't need the same.
We take our time to get to know your needs.
Our mosquito system implements sprayers into the ground, so you don't have to worry about seeing them around your yard or business. We customize the installations to our customers so that your needs are genuinely your needs. We are the contact go-to for everyone living in the Houston area.
Our customer service reps are more than happy to help you. Ask any question you please, and we will get you an answer. We want you to feel comfortable in your home and with our system.
If you would like to schedule an appointment to get started, we will do that for you.
Mosquito System Maintenance and Installation
While we install the system, we act as your best friend. After installation, we explain the installation process to you. Furthermore, we ensure that you understand how to operate the system with ease. All of our systems are automatic, so don't worry about manually turning the system on and off for each use.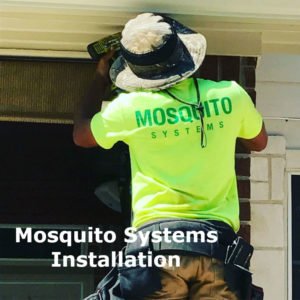 With the automatic system, you program it for your needs and let it do the rest.
Next, we're going to break down how our systems install, so you aren't left in the dark.
First, we begin with a free consultation done at your home. After you give us a call, we schedule a time and date that works best for you to come out and inspect your home or business. Gathering the dimensions, we use the numbers to calculate what system will work best and how much material we will need.
All of this information will allow us to provide you with a quote of the cost. We'll allow you to figure out if the price fits your budget, and if it does, we will have you schedule the installation appointment. Again, we serve you so you pick the time and date that works best with your schedule. Our hours of operation are wide, allowing us to give you more extensive time ranges.
At this time, we will arrive at your home to install the system. Adhering to all city and state guidelines, we install a tank or tankless system on your property. This process can take anywhere from 4-10 hours, depending on the size of the installation area. But, we determine this at the consultation.
Finally, when we complete the job, our technician will explain the process. Following, we will teach you how to use your system. We will answer any questions you have and share the details with you if you have chosen a specific spray system.
Last, we will schedule monthly home visits to inspect the system and ensure it is working optimally. Sometimes at the visits, we will refill the system if needed.
As always, we are here to answer your questions about whether we are there in person or physically at your home.
About Mosquitos and Repair FAQ's
Previously stated, mosquitos aren't just any ordinary annoying pest; they carry diseases. It is important to take steps to prevent that.
Because we have so much experience, we like to call ourselves experts in mosquitos. So, we know that they are a year-round issue and not a seasonal one like everyone assumes. Mosquito presence is affected mostly by the temperature outside, which can vary, especially in a state like Texas.
Mosquitos are known carries of both the Zika and West Nile viruses. Both can become life-threatening to humans. We acquire these viruses by being bitten by a mosquito. So, this is why we say that a mosquito installation service such as ours is imperative to keep the people you love and care about safe.
Our system kills every species of mosquitos you may encounter, so you don't have to worry about changes to your system.
In the event that something happens to your system, don't worry. These things do happen occasionally. Give our team a call, and we are more than happy to either come out or assist you in fixing the issue yourself if possible.
Hours of Operation
With Sugar Land TX best mosquito misting system, we made sure to allow for a wide range of availability on our end to comply with your busy schedule.
Our hours of operation are as follows:
Monday-Saturday 7 AM- 7 PM
Sunday 7 AM-Noon 
I know we just threw lots of information at you, so give us a call at (713) 344-1984 to schedule your consultation now or to ask us any questions. We're here to help you become mosquito-free.
Sugar Land Texas Fun Facts:
Sugar Land, Texas, is pretty big, covering approximately 1.2 acres of land.
We are home to two minor league sports teams–the Skeeters, a baseball team, and the Sugar Land Imperials, a hockey team.
Containing numerous attractions, including a museum, there's endless fun to find here.
Local children chose our two local sports team names.
To learn more about Sugar Land and its attractions, visit the local website!